3rd Annual Polo Classic
-LIMTED TIME SALE-
Get your tickets today and receive 25% off. VIP and Tailgating tickets available.
Promo Code: SAVE25. Offer Valid: 07/01-07/04

Join us in celebrating our 40th Anniversary! Enjoy a beautiful afternoon at Congressional Polo Club in Ijamsville, MD. Guests are welcome to participate in the time honored tradition of the stomping of the divots, sideline activities including "Best Dressed" contest and more! VIP and tailgating tickets available.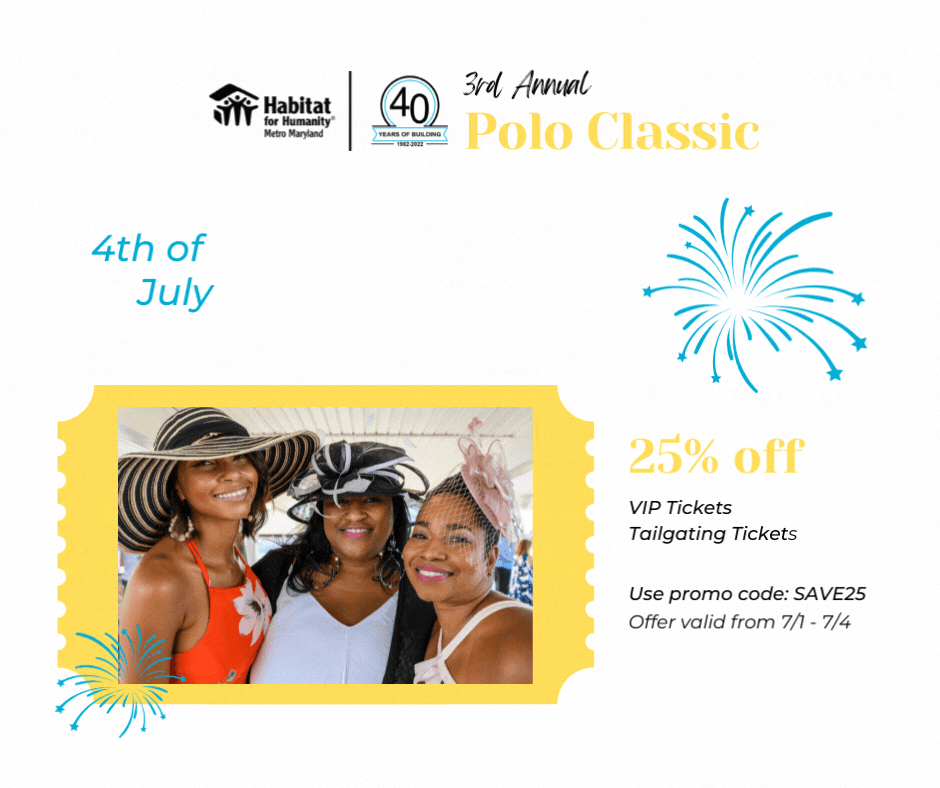 SATURDAY, SEPTEMBER 17, 2022
Congressional Polo Club
14660 Hughes Rd, Poolesville, MD 20837
2:00pm-5:30pm
Doors open at 1:00pm


TICKETS
Get your tickets today and receive 25% off. VIP and Tailgating tickets available.
Promo Code: SAVE25. Offer Valid: 07/01-07/04.
To purchase tickets, click here. 
 
SPONSORSHIP OPPORTUNITIES
For more information please contact our Corporate Relations Manager, Paige Beyer, at paige.beyer@habitatmm.org.
 
EVENT INFORMATION
For questions about our event, please contact our Special Events Manager, Lisseth Orellana, at lisseth.orellana@habitatmm.org.
 
___________

Click here to view event photos from our 2nd Annual Polo Classic.
Photography by: Huamani Photography
 
Thank You to our 2022 Sponsors!
Silver Sponsor
Polo 101
Polo is an international sport and a 2500 year old sport.
Polo is played on a ten acre grass field. 300 yards in length by 160 yards, which is the approximate area of ten football fields.
There are four period or "chukkars" in a match. Each chukkar is seven minutes long. Play begins with a throw-in of the ball by the umpire at the opening of each chukkar, and after each goal. Only penalties or injuries may stop play as there are no time-outs or substitutions allowed.
The mallet, made of bamboo shaft with a hardwood head, is the instrument used to hit the polo ball.
subscribe to our newsletter
Click the link below to sign up to receive our newsletter.