3rd Annual Polo Classic
Habitat Metro Maryland is excited to announce its upcoming 3rd Annual Polo Classic collaboration with Habitat DC-NOVA on Saturday, September 17, 2022 at Congressional Polo Club. This region wide event benefits Habitat's mission to build strength, stability, self-reliance, and affordable housing across the Metro DC area. 
Guests will enjoy two spectacular fast paced matches featuring professional polo players, the time-honored tradition of stomping of the divots, sideline activities including "Best Hat" and "Best Dressed" contests and more.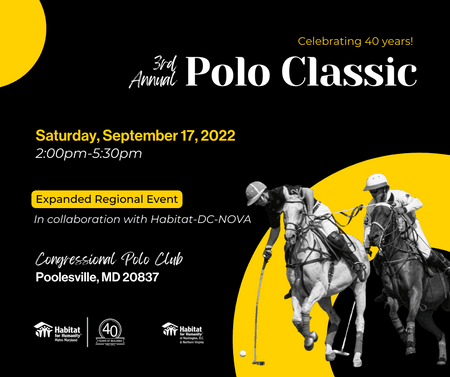 SATURDAY, SEPTEMBER 17, 2022
Congressional Polo Club
14660 Hughes Rd, Poolesville, MD 20837
2:00pm-5:30pm
Doors open at 1:00pm


TICKETS
$200 VIP TicketsVIP guests will enjoy a front seat view in the Grand Stand with music, light refreshments including beer and wine, and sideline activities including a wine tasting by Windridge Vineyards and a silent auction with spectacular trips provided by AmFund including a seven day trip for two to Tuscany!
Click here to learn more about these amazing trips!

$85 Tailgate Tickets
Come tailgate field side! Bring a blanket, lawn chairs, snacks, and/or beverages to tailgate field side with friends and family. Individual tents (no larger than 10' x 10') are allowed. (5 maximum attendees per vehicle)



SPONSORSHIP OPPORTUNITIES
To view sponsorship opportunities, click here. For more information please contact our Senior Director of Development, Paige Beyer, at paige.beyer@habitatmm.org.
 
EVENT INFORMATION
For questions about our event, please contact lisseth.orellana@habitatmm.org.
Photos by: Huamani Photography
POLO 101
Polo is an international sport and a 2500 year old sport.
Polo is played on a ten acre grass field. 300 yards in length by 160 yards, which is the approximate area of ten football fields.
There are four period or "chukkars" in a match. Each chukkar is seven minutes long. Play begins with a throw-in of the ball by the umpire at the opening of each chukkar, and after each goal. Only penalties or injuries may stop play as there are no time-outs or substitutions allowed.
The mallet, made of bamboo shaft with a hardwood head, is the instrument used to hit the polo ball.
Thank You to our 2022 Sponsors
Gold Sponsor

John and Suzanne Pranzatelli
Silver Sponsor
Bronze Sponsors
Sandy Spring Bank
The Etergino Group – RBC Wealth Management

 
Activity Sponsor
EagleBank

 
Mallet Sponsors
Jim Coleman Automotive
Brett and Janet Lambert
Mary LoGiudice
Nicholas Serenyi
Susan Traver
Scott and Jennifer Umosella
Leif and Julia Ulstrup
WesBanco Bank
Thank You to our Event Partners
AmFund
Belt It Out Productions
Caroline Umosella
Congressional Polo Club
Eric Westbrook
Keith Harvey
Kentlands Photography Cafe
Mister Softee
Sapphire Music
Simply Fresh Events
The Big Screen Store
Windridge Vineyards

 
subscribe to our newsletter
Click the link below to sign up to receive our newsletter.