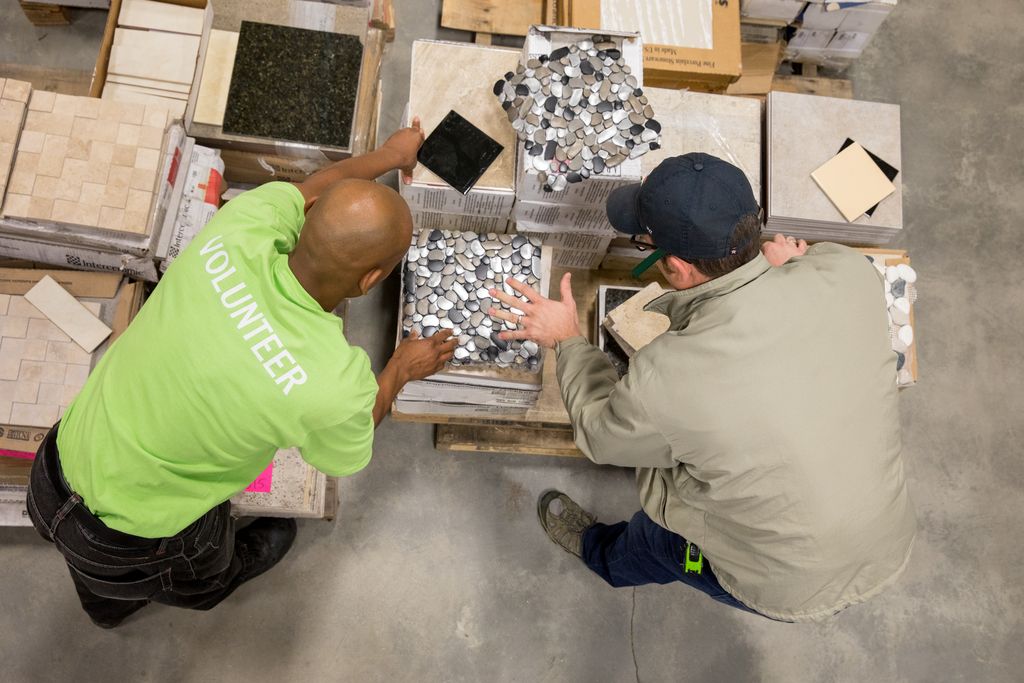 ReStore shares our mission to provide affordable housing solutions. Habitat for Humanity ReStore is a nonprofit retail outlet that sells household goods and furniture at deep discounts, thus diverting tons of reusable materials from the landfill. Volunteers keep ReStore going!
We welcome individual volunteers with many skills, capabilities and experience levels to volunteer with us one day at a time, or by making a longer-term commitment. ReStore is SSL and ACS approved.
ReStore has two locations:
ReStore Rockville
1029 East Gude Drive
Rockville, MD 20850
ReStore Silver Spring
12006 B Plum Orchard Drive
Silver Spring, MD 20904.
Volunteer Shifts for Restore Rockville and ReStore Silver Spring:
Monday-Saturday
10:00AM – 2:00PM
2:00PM – 5:00PM
Sunday
11:00AM – 2:00PM
2:00PM – 5:00PM
All ReStore volunteers must be 16 years old, or 14 to 15 years old with a parent or guardian.
We have new volunteer management system, Volunteer Hub!  Log on today and sign up for a volunteer shift! 
Volunteering at ReStore
ReStore volunteer tasks include taking in new merchandise and cleaning it in preparation for sale, testing merchandise for functionality, organizing merchandise on floor, moving merchandise and setting up displays, maintaining general orderliness and cleanliness of store and welcoming and assisting customers. Volunteers should expect hands-on work.

Opportunities for Seniors
We welcome seniors to volunteer in the ReStore. For more information please click here.

Opportunities for Groups
We welcome groups of up to 20 volunteers to volunteer in the ReStore Rockville and up to 15 volunteers in the ReStore Silver Spring. We recommend that you schedule your group volunteer days at least two weeks in advance to ensure that your preferred day is available. Staff will provide an opportunity to learn more about the work of Habitat for Humanity in your community through an informational session, if requested. Contact Sandra.Limjuco@habitatmm.org for more information or to schedule your group volunteer day in the ReStore.

Internships and Assistantships
Habitat ReStore has many unpaid internships available. Please take a look at the Operations Volunteers section of our website or contact info@habitatmm.org to discuss internship openings and how to apply.

Truck Driver Assistant
ReStore is looking for a motivated individual to help our drivers pick up large donations at least one day a week. This volunteer must be able to consistently lift at least 50 pounds. Why go to the gym when you could volunteer for ReStore?

Volunteer Policies
Volunteers must be at least 14 years old. Volunteers 14 and 15 year old must be accompanied with a parent or guardian willing to volunteer as well. Volunteers under the age of 18 must bring a parent or guardian signature on their waiver on their first day of volunteering. Volunteers must wear closed toed, thick soled shoes. Shirts with sleeves and long pants are required (high heels, sandals, shorts, leggings, yoga pants, or revealing clothing and clothing with inappropriate slogans will not be permitted). All volunteers must sign up for a volunteer shift prior volunteering: http://habitatmmrestore.habitatmm.volunteerhub.com. If you are more than 10 min late for your volunteer shift, you will have missed the orientation and you may be turned away.
A mask must be worn while on site, regardless of vaccination status. The mask must fit snugly and cover the nose and mouth. Volunteers are permitted to bring their own mask but the construction staff will make a judgement if acceptable to wear on the job site. Please note: neck gaiters, handkerchiefs and masks with valves are not permitted on site. It is critical that volunteers NOT PARTICIPATE while they are experiencing illness symptoms such as fever, cough, shortness of breath, or loss of taste or smell or other symptoms associated with COVID-19. Volunteers who appear to have symptoms upon arrival or who have become sick during the day will immediately be separated from others and sent home. If exposed to someone who has tested positive for COVID-19, volunteers must delay in-person volunteering for either 14 days or until after receipt of a negative COVID test conducted no sooner than 5 days after exposure. Parties may bypass quarantine and/or testing if they have had and recovered from COVID in the previous 3 months or are fully vaccinated and show no symptoms of COVID-19.    
subscribe to our newsletter
Click the link below to sign up to receive our newsletter.